CHICKADEE Cloisonne NECKLACE Bamboo Jewelry STERLING Silver Enamel BIRD + Boxed
$42.00
Regular price
$43.00
Chickadee Necklace by BAMBOO Jewelry
Brand New.  This beautiful Chickadee Necklace is lovely. The pendant is a striking yellow with black, white and silver accents. The chain is solid sterling silver and adjustable. 16" - 20". Six gorgeous matching yellow genuine swarovski crystals make this necklace extra pretty.
Chain and Clasp: Sterling Silver

6 Genuine Yellow Swarovski crystals
Handcrafted Cloisonne jewelry
Packaged in lovely, eco-friendly bamboo gift box
Item number: 0216 sm neck
Chain: Solid Sterling Silver Chain and Clasp
16"-20" adjustable
Size of pendant: 0.71 in (18 mm) H x 0.47 in (12 mm) W
Cloisonné jewelry is handcrafted by fusing kiln-fired glass to a sterling silver foundation, and each color is outlined by a fine braid of silver wire. Enameled on both the front and back which strengthens the piece and makes the backside smoother to the touch. This necklace comes packaged in an eco-friendly bamboo gift box lined with anti-tarnish fabric. Gorgeous.
Free Shipping & Gift Wrapped Box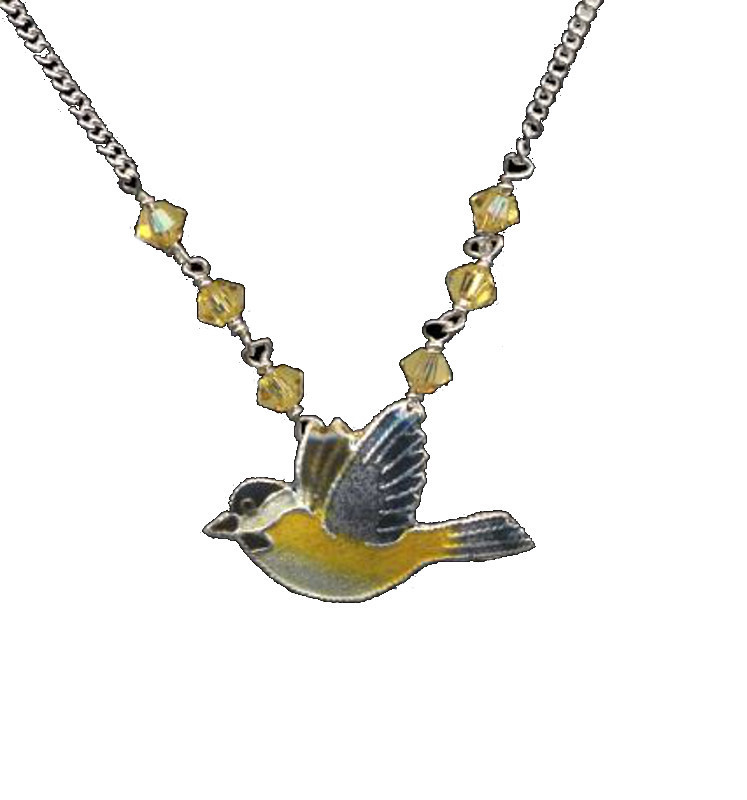 Trysail Gifts is proud to be an authorized Bamboo Jewelry Dealer. All of our products are Brand New and come direct from the manufacturer.
Thank you for your business!